Popular Australia Coffin Handles 1070-2 knuble and knobs handle for wooden casket in high polished and plated
1070-2 is a type of traditional swing bar coffin handles, these handles have a classic design and are commonly used on traditional-style coffins. They typically feature a metal bar or wooden bar that swings to function as a handle.
Metal coffin handles can be attached to the coffin in different ways. Some are screwed into the side of the coffin, while others might be attached with brackets or specially designed fittings. The method of attachment can also affect the load-bearing capacity of the handle.
It's suitable for the 22mm steel bar or wooden bar.
The one set of handle can lift more 150kgs.
The handle length can be customized, it can be 30cm, 36cm or more than 1m.
| | |
| --- | --- |
| | |
| | |
| | Zinc Alloy with Steel bar |
| | 31x10cm; the length can be customized |
| | Gold, Antique Brass, Antique Copper or Chrome plated |
| | |
| | |
| | |
Applications: coffin handles
Competitive Advantage: High polished, high quality and competitive price
Tag : Casket Handle, coffin fitting, coffin handle, zinc alloy handle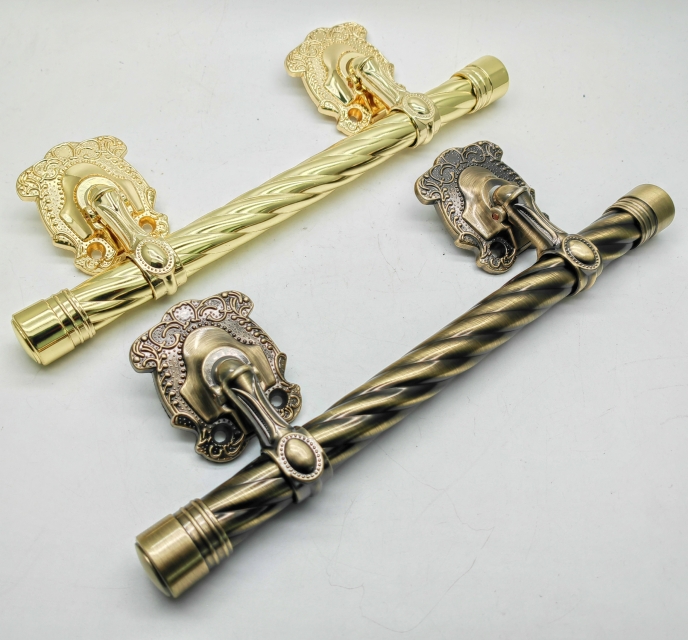 Metal coffin handles, also referred to as casket handles, are commonly used as hardware on coffins or caskets. They're designed to provide a means to carry the casket and to add to the overall aesthetic. These handles can come in a variety of styles and materials.