One stop station for sourcing Coffin handles, Crucifix, Casket fittings And Funeral Hardware
Sourcing from China Quality Manufacturer
Supply High Quality And Compatitve Price- Virtue Hardware Co., Ltd
Virtue Hardware Co., Ltd  is a trustworthy and dependable manufacturer of coffin handles, offering a vast range of products to cater to every need. They pride themselves on quality merchandise, affordable pricing, and exceptional customer service.
The team of skilled professionals uses only the finest materials and modern technology to bring the customers the latest and most innovative coffin handles. Our products are rigorously tested and proven to withstand heavy use, providing long-lasting durability and reliability.
Whether you are a funeral director, burial professional, or undertaker, we will prepare perfect solution for all your coffin handle needs. We have a vast selection of options available, including different materials, shapes, and designs. 
Virtue Hardware Co., Ltd is dedicated in coffin handles, ornaments, cross and crucifix, name plate, casket arm, swing bar and various hardware which are related of coffin or casket.
The main products are made of zamac (zinc alloy) material. They are produced by die casting machine, then by hand polished and electronic plating. The surface can be plated to Gold (GP), Nickel (NP), Antique Brass (AB), Antique copper (AC) and so on. By this way, it can produce all kinds of handle, crucifix and decoration.
They also can produce some articles in steel, stainless steel (304# or 316#) or aluminum alloy.
Meanwhile, Virtue Hardware Co., Ltd also produce some items in ABS or PP plastic material, it will be more economic for the cremation. By injection machine, it will be form the shape as the mould, then they will make the vacuum metallization and color coating, it will be finished the gold, silver or copper color. Some ABS products can also be plated into antique brass or antique copper also.
History- Virtue Hardware Co., Ltd/ Manufacturer of Coffin Handles and Fittings in China
Virtue Hardware Co., Ltd
 started funeral business on 2007 year. At beginning, we were an trader for all kinds funeral product, and they cooperated with other factory to make production, at same time they invested the mould by themselves for the production. 
In 2016 year, 
Virtue Hardware Co., Ltd
 established an new factory at Wenzhou, Zhejiang province. To be a new producer,  they took two years to improve the production quality, mould development and managerment system and quality control.
Till 2018 year, all things were in a good condition, and 
Virtue Hardware Co., Ltd 
got more clients reliable and admire. The prodution and quality were steadible. And they keep on improved the quality and decrease the cost to make more superority than other supplier.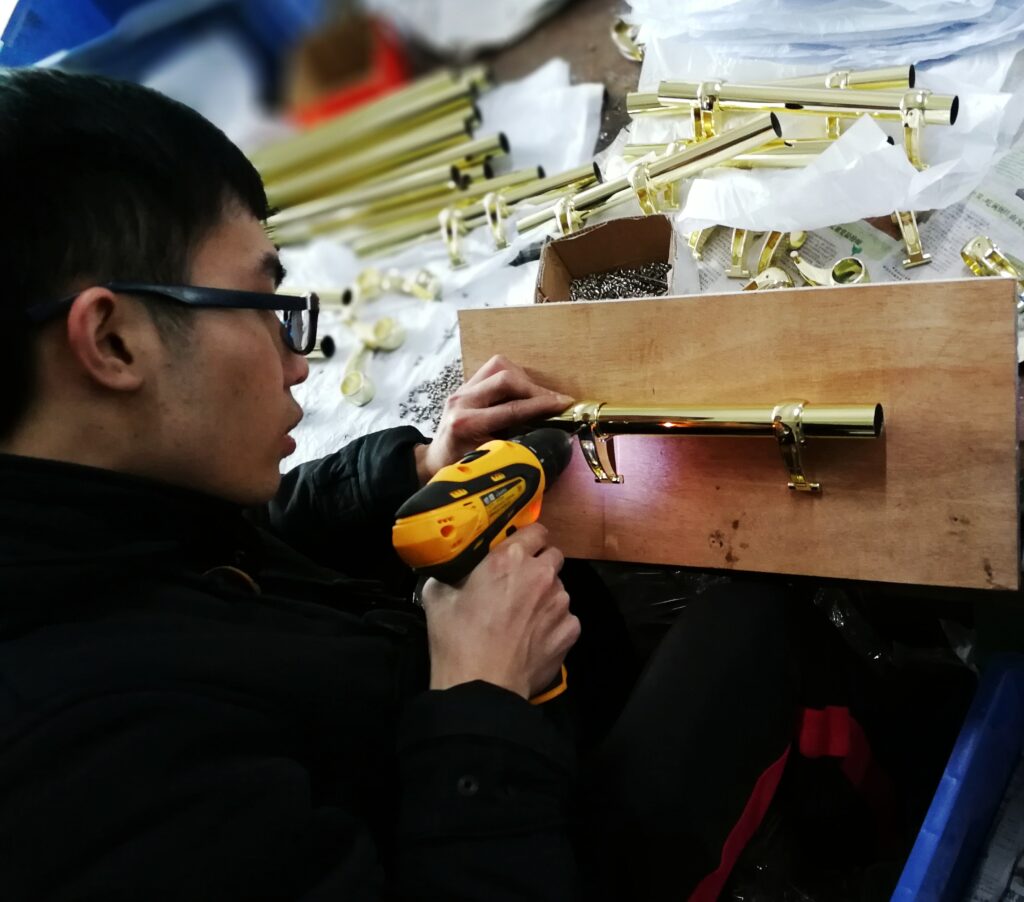 Why choose Virtue Hardware to purchase Coffin handles and Fittings?
When it comes to purchasing coffin handles and fittings from China, Virtue Hardware Co., Ltd is a factory that stands out from the rest. With years of experience in the industry, they have built a reputation for providing high-quality coffin handles that are both durable and aesthetically appealing.
One of the reasons to choose Virtue Hardware Co., Ltd is their commitment to customer satisfaction. They understand the importance of delivering products that meet specific requirements, which is why they take the time to work closely with clients to ensure their needs are met. Their team of experts is always willing to provide guidance and advice to help clients select the perfect coffin handle that suits their unique needs.
Another reason to consider Virtue Hardware Co., Ltd is their competitive pricing. As a manufacturer, the company has complete control over the production process, which translates to lower costs compared to other companies. They can pass down these savings to their clients, making their handles affordable for all clients.
The company uses high-quality raw materials, and they employ advanced manufacturing techniques to produce coffin handles that are durable and long-lasting. They have a team of highly skilled professionals who are up-to-date with the latest trends and designs. Whether you are looking for traditional coffin handles or modern designs, they have got you covered.
One of the things that set Virtue Hardware Co., Ltd apart from their competitors is their attention to detail. They ensure that all products are delivered on time and in the desired condition. They understand the importance of meeting deadlines and ensuring timely delivery to customers.
In conclusion, Virtue Hardware Co., Ltd is the go-to factory for anyone looking to purchase coffin handles from China. With their committed team of experts, competitive pricing, high-quality raw materials, and attention to detail, it's no wonder they have built a name for themselves as a leading manufacturer in the industry.
Coffin Handles -Crucifix -Fittings
sourcing from reliable factory for coffin handles, cruxifix, casket fittings
Virtue Hardware Co., Ltd specializes in manufacturing high-quality coffin handles that are ideal for import distributor, funeral home directors and casket manufacturers. Our coffin handles are designed to provide the highest level of functionality, durability, and aesthetics to suit your preferences.
Below are the benefits and features of the Coffin Handles and fittings:
1. Durable: the handles are rigorously tested and made from high-quality materials that are designed to last for years of use.
2. Easy to Install: These coffin handles are easy to install and readjust for a secure fit.
3. Attractive Styling: We manufacture an array of modern and classic styles that appeal to all design aesthetics.
4. Excellent Grip: Our coffin handles offer a comfortable grip that is easy for mourners to hold when carrying the coffin.
5. Good Quality Control: We understand that every funeral director depends on high-quality hardware, and that's why we incorporate an excellent quality control system that ensures consistency in every order.
6. Professional Look: Coffin Handles are highly polished and finished to provide a professional look that adds aesthetic appeal to the funeral home.
7. Different Sizes are Available: We offer a variety of sizes of coffin handles to ensure that they match the size of the casket and look aesthetically pleasing.
8. Affordable: We offer an affordable alternative to the traditional and costly coffins handles that have been used for years.
To sum up, Virtue Hardware Co., Ltd offer excellent value  and will appeal to funeral home directors and casket manufacturers looking for high-quality, durable, and aesthetically pleasing handles. We understand the importance of functionality and style, and strive to ensure satisfaction with every order.
Virtue Hardware Co., Ltd produce the coffin handles which are a crucial component in the funeral industry. These handles are made of high-quality materials and come in various sizes, shapes, and designs to suit different types of coffins. Here are some of the types and applications of the coffin handles:
1. Traditional Coffin Handles: We can it fixed handle, These handles are the most popular type and come in classic shapes and designs, such as simple bars, loops, and curves. They are often made of zamac, alluminum alloy and are easy to install and use, which is a part of furniture handles.
2. Decorative Coffin Handles: These handles are designed to add a touch of elegance and sophistication to coffins. They come in various styles, such as ornate designs, engravings, and motifs. They are often made of plastic or wood material for the cremation coffin and casket.
3. Popular Coffin Handles: Movable coffin handles refer to handles that are attached to a coffin or casket, which can swing or move. Unlike stationary handles, movable handles has an movable bar make carrying the coffin easier and more ergonomic for pallbearers. These handles are usually have two parts, one is feet part and the other one is movable handle bar.
4. Customized Coffin Handles: These handles are made to order, according to the client's specific requirements and preferences. They can be designed in any length and shape, which perfect for personalized or unique coffins. It's normally zamac point with steel bar in different length of handles.
The coffin handles and fittings are used by funeral homes, mortuaries, and coffin manufacturers worldwide. These handles are an essential component in the funeral industry as they provide a secure and reliable grip to carry the coffin. 
Virtue Hardware Co., Ltd are manufacturing high-quality crucifix, cross and fittings, the material can be zamac, brass, stainless steel, aluminum alloy or plastic material.
A coffin crucifix is a religious emblem in the shape of a cross, often with the figure of Jesus Christ affixed to it, that is used to adorn a coffin or casket. It is particularly common in Christian funerals as a symbol of faith and the belief in the resurrection after death. The crucifix can be placed in various ways:
On the Lid: Often, a crucifix is attached to the lid of the coffin. It can be either a small, subtle ornament or a larger, more prominent piece, depending on the preferences of the deceased's family.
Inside the Coffin: In some traditions, a smaller crucifix may be placed inside the coffin, either in the hands of the deceased or beside them.
Laid on Top: A crucifix could also be laid on top of the coffin during the funeral service as a temporary placement, symbolizing the religious importance of the event.
Fix on the tombstone: The crucifix or cross normally are made of brass or stainless steel, during the outdoor environment, it can anti-rust and good decoration.
Using a crucifix is a way of honoring the religious beliefs of the deceased and offering comfort to the grieving family and friends. It serves as a reminder of the spiritual significance of death and the hope for an afterlife, which is a core belief in Christianity.
How to Produce the Coffin Handle and Quality Control?
Virtue Hardware Co., Ltd, a leading coffin handle manufacturer, is dedicated to the production of quality handles that will ensure a dignified send-off for your loved ones. The company has put in place several measures to ensure that the quality of their coffin handles is maintained to the highest standards.
Firstly, Virtue Hardware Co., Ltd sources its raw materials from reliable suppliers who meet the required quality standards. The company uses high-quality zinc alloy to ensure that their handles are durable. Additionally, they use advanced technology in their manufacturing process to ensure that the handles are well-designed and easy to use.
Secondly, the company has a quality assurance team that carries out rigorous quality checks at each stage of production. This ensures that any defects or non-conformities are detected early and rectified to prevent them from compromising the overall quality of the handles.
Thirdly, the company have invested in a lift-weight-testing equipped with quality measurement tools to ensure that the handles meet the required quality standards. The testing facility carries out tests to ensure that the handles are strong, durable, and can withstand the demands of the funeral industry.
Finally, the Virtue Hardware Co., Ltd,  understands the need to maintain a high level of professionalism and customer satisfaction. To achieve this, the company has a team of dedicated customer service agents who are always willing to listen to customer feedback and address any concerns.
In conclusion, Virtue Hardware Co., Ltd is committed to providing quality coffin handles that meet the requirements of the funeral industry. Through the use of quality raw materials, advanced technology, rigorous quality checks, and customer feedback, they strive to maintain the highest standards of quality. As a result, they have built a reputation for excellence and reliability in the industry.
Trusted By 1000 more clients
Over 1,000 customers have trusted us with their products sourcing needs