Funeral Supplies Plastic Cremation Ash Urn With Rose in Bordeaux Colored for Storage Human Ash
The Cremation Ash Urn is a type of plastic urn or holder for the human ash, the capacity is 3.3L, and it made of ABS plastic
material, the basic color: blue, grey, bordeaux or black, the other color can be customized.
The height is 23cm and diameter is 16cm, with the inner cap and outer cap.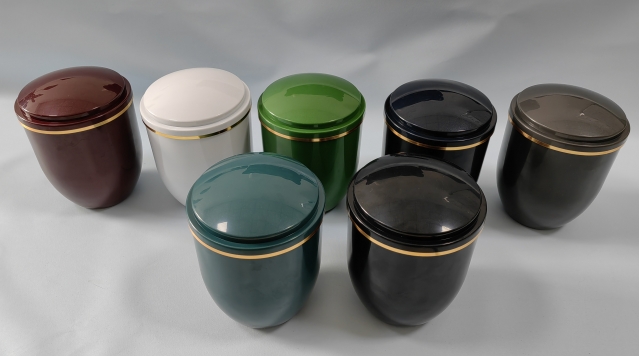 Cremation Ash Urn
A cremation ash urn is a vessel that is specifically designed to hold the cremated remains of a loved one. These urns come in various shapes, sizes, and materials, allowing families to choose one that best represents their loved one's personality or reflects their own personal taste. Some cremation ash urns are made from traditional materials like wood, ceramic, or metal, while others may be more unique, crafted from materials such as glass or even biodegradable materials for those who wish to have an environmentally friendly option. The urns can be personalized with engravings, artwork, or even photographs, providing a meaningful and lasting tribute to the deceased. Additionally, cremation ash urns can be kept at home, placed in a columbarium, or buried, offering flexibility and peace of mind to grieving families. Overall, a cremation ash urn serves as a cherished object that holds the memories and essence of a loved one, providing comfort and a sense of connection even after they have passed away.
Key words: plastic ash urn, funeral urne, funeral cremation urn
Cheapest Funeral Ash Urn For Cremation in ABS plastic material and Blue color