Funeral Coffin Lid Screw 8049 in Zinc Alloy and Antique Brass
The Funeral Coffin Lid Screw 8049 is a meticulously crafted piece made from high-quality zinc alloy with an antique brass finish. This screw serves an important purpose in securing the lid of a funeral coffin, ensuring a dignified and secure resting place for the departed. The intricate design and attention to detail make this screw a standout piece, adding a touch of elegance and sophistication to any funeral service. The antique brass finish not only provides a timeless aesthetic but also offers durability and resistance to corrosion, ensuring that the screw will withstand the test of time. The Funeral Coffin Lid Screw 8049 is a fitting tribute to honor and remember a loved one in their final resting place.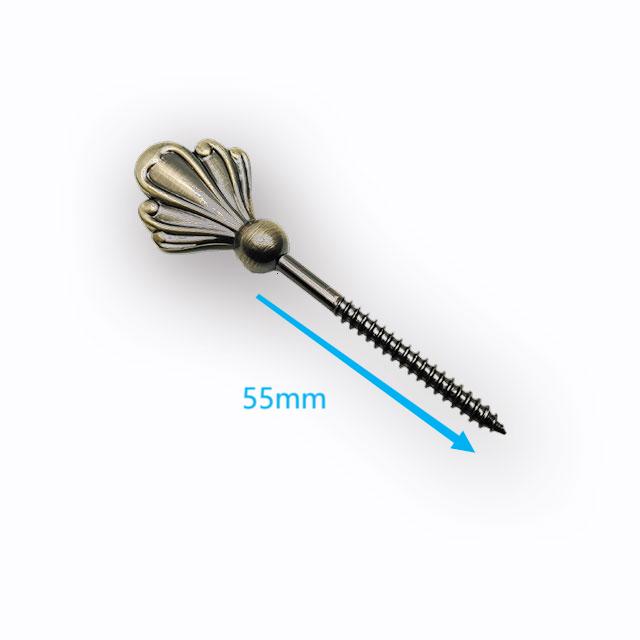 Coffin fittings are a crucial aspect of the funeral industry, ensuring that the deceased is respectfully laid to rest. These fittings include handles, screws, plates, and other components that help secure the coffin and provide ease of transportation. They are often made from high-quality materials like brass or stainless steel, ensuring durability and longevity. Coffin fittings also come in various designs and styles, allowing families to personalize their loved one's final resting place. While these fittings may seem like small details, they play a significant role in creating a dignified and peaceful farewell for the deceased, providing comfort to the grieving family and friends.
Coffin Lid Screw
Coffin fittings and cross type lid screw 8022 in zamak material and metal screws